Are you in the market for a new truck but you are unsure of where to begin your search? Do you need a truck that is not only modern and stylish, but also reliable and extraordinarily powerful? If so, the 2023 F-150 has an impressive amount of power and plenty of features that are sure to leave a lasting impression. To learn more about the Ford F-150s available on the market, visit Greenway Ford in Raytown, MO, for more information.
The Powerful 2023 F-150
For those who are looking for a pickup with plenty of power, look no further than the 2023 Ford F-150. Built with a 3.5L PowerBoost Full Hybrid V6 engine, you will have plenty of power to travel, move, and transport just about anything. The standard 3.5L PowerBoost Hybrid engine is not for the faint of heart. In fact, it can churn out an intense 570 ft. lb. of torque with its 450 HP. Currently, the 2023 F-150 has numerous engine setups to choose from, including:
3.5 L PowerBoost Full Hybrid V6 Engine
3.5L Ecoboost V6 Engine
2.L Ecoboost V6 Engine
5.0L TI-VCT V8 Engine
3.3L TI-VCT V6
High-Output 3.5L Ecoboost Engine
Included with all F-150 engines (2023 makes) is also the Ford 10-speed automatic transmission. Take advantage of improved overall performance and advanced acceleration with the F-150's 10-speed automatic transmission in place. Choose between selectable drive modes to ensure your truck is ready to hit the road at all times. Standard selectable drive modes included with the 2023 F-150 range from Slippery and Trail to Normal, Eco, Sport, Tow/Haul, as well as Snow/Sand, and Mud/Ruts. For those interested in the FX4-equipped F-150, unique models such as the Rock Crawl mode are also available.
Capability
The 2023 F-150 doesn't just look impressive. It delivers on all fronts, including its own power and capability. Depending on the engine you choose, there are various maximum power wattages to consider before choosing the make of the 2023 F-150 that is right for your needs.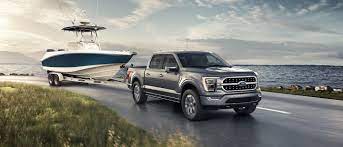 2.0kW (2000W): Suitable for up to four available 120V/20A outlets. Ideal for powering reciprocating saw, jigsaw, sander, sandwich maker, TV, gaming console, blender. This is also available with optional gas engines.
2.4kW (2,400W): Suitable for reciprocating saw, jigsaw, laser printer, TV, gaming console, blender, microwave.
7.2kW (7,200W): Optimal for welder, G6 air compressor, saw, hammer drill, laser printer.
In addition to its impressive engines and power capabilities, the 2023 F-150 also includes a stunning 14,000 lbs. of towing capacity, making it easier than ever to tow vehicles, campers, and even entire RVs. The payload rating for the Ford 2023 F-150 5.0L V8 is 3,310 LBS.
Safety Features and Technologies
While the power and capabilities of the 2023 Ford F-150 are extremely impressive and highly competitive with other vehicles on the market, there are also plenty of safety features that should not be forgotten, such as:
Ford Bluecruise© Technology: Included with all Ford 2023 F-150 makes and models is Ford's own Ford Bluecruise© technology. This technology provides hands-free calling andmanagement solutions while also integrating a variety of safety features directly into the vehicle itself. From Stop-and-Go, Lane Centering, and Adaptive Cruise Control technologies, Ford Bluecruise© is an essential must-have for anyone whose priorities for a new vehicle involve safety and security first.
Hands-free Blue Zones: With Ford's Bluecruise© technology integrated into the 2023 F-150's, it is possible to drive your F-150 hands-free for more than 130,000 miles throughout the USA (and growing each day).
Ford Co-Pilot 360 Technology: Ford's Co-Pilot 360 Technology is also available with all 2023 F-150 models. Included with Ford's Co-Pilot technology is Pre-Collision Assist, Lane-Keeping System, High-Beam Headlamps, Rear View Camera, BLIS with Trailer Coverage, and Adaptive Cruise Control technologies.
Whether you're looking for a vehicle to tow your boat, a trailer, or even another vehicle you own or if you want a reliable truck that you can count on that will last, the 2023 F-150 has everything you will need in a standard truck and more. From modern technologies and selectable drive modes, the 2023 F-150 is one of the very best forward-thinking trucks available to date. To see the current inventory available and in stock, visit Greenway Ford in Raytown, Missouri to learn more today.